Come To Me Quietly Blog Tour!
January 7th – February 7th
Come To Me Quietly (The Closer to You Series, Book 1)
Author:
Release Date:
Blog Tour hosted by:
Shh Moms Reading, Literary Mania Reviews, and Brandee's Book Endings

From the acclaimed bestselling author of
Lost to You and

When We Collide

comes a new adult novel of one woman's obsession: a man who's as passionate as he is elusive—and as tempting as he is trouble.…
Aleena Moore is haunted by Jared Holt. It's been six years since she's seen her brother's best friend, the self-destructive bad boy she secretly loved in high school. As the years pass, she knows it's time to move on. Time to decide between a practical nursing degree and her true dream as an artist. Time to get over Jared and give another guy a chance…
Just when she opens her heart to her friend Gabe, Aly returns home to find Jared sleeping on her couch. The teenage boy she loved has grown into a man she can't resist. Covered in tattoos and lost in rage, he's begging to be saved from his demons—the memories of the day he destroyed his family.
As the two reconnect, their passion is hot enough to torch Aly's judgment. But can she risk her future for a man who lives on the edge of destruction?
Steph's Review:
*****5 GOLD SHINY STARS*****
Come To Me Quietly is toooo fucking amazing!
A.L. made has made my heart hurt. Bad.
I usually never do into the synopsis of the book (again) because well, I don't like repeating shit. So to wrap it all up nice and neat CTMQ is about childhood buddies Ally and Jared. Their beautiful tear inducing love story is written with alternating POVs, minimal flashbacks, and drama filled angst.
Jared is the ultimate sexy BBB ( Broken Bad Boy)! Everything Jared touches seems to turn to shit as we follow his path of self destruction. Fuck me, Jared is one tortured soul with multitudes of demons in his closet. Some fucked up shit happens at a young age that he feels responsible for causing him to leave town but only to return several years later. Fucked up and feeling unworthy of love, especially Ally's love.
Gahhhh....
I LOVE HIM. I want to kiss all of his lil' booboo's and make it all better for him.
Ally is the strong yet sensitive beauty that has been in love with Jared for as long as she can remember. She is the light in his darkness, good to his bad, the up to his down....they complete each other.
Although, I'm not really sure they know it, yet. Ally makes a perfect heroine!
The build up between Ally and Jared was on the mark. I adored the tug and pull between them. Almost like a game of cat and mouse. The way they kept flipping the script.... gave me butterflies.
I can't say enough wonderful things about CTMQ.
A.L. has out done herself this time.
The writing is pure and painfully beautiful. The characters are amazing; full of depth and growth. The story flows effortlessly.
A DEFINITE ONE' CLICKER!
I hope my heart can take the sequel!
Aly took my hand again. "Come on, let's find a good spot to watch the fireworks."
With her voice, I shoved off the images, turned and gently smiled at her, ignoring the guy whose gaze burned into the back of my head with outright hate.
Instead I focused on her words that sounded so damned cute, like they used to when we'd run ahead of ourselves to find the best spot at the park. We used to get so close that we'd feel the fireworks rumble through our bodies, and we had to dodge the little pieces of paper ashes that flitted down from the sky.
She led me to a lounger that sat out in the open on the grass. She pushed at my side and grinned. "Take a seat."
Quirking a brow, I smirked at her, but did as I was told. I sat sideways on it with my feet on the ground. Aly settled to the grass, and instinctively my knees parted to make room for her. Nestling between my legs, she shifted a bit to rest her head on the inside of my thigh.

Then she released a breathy sigh as if this was the only place she wanted to be, murmuring, "I'm so glad you're here, Jared."
Desire coursed over every inch of my skin and pooled in my stomach. There was nothing I could do to stop it, the way I hardened at her slightest touch, at the soft sound that fell from her mouth, at the smell of her hair that had become permanently ingrained in my mind.
Night fell further, collected across the sky, and the darkness deepened the silence of the cocoon Aly and I found ourselves in. The heat had ebbed the slightest bit, the warmth of the day beginning to dissipate into the inky dome overhead.
Most in the yard had quieted and taken their spots to watch the sky, anticipating the show that was about to begin. Everyone else bled into obscurity, and in that instant, it was just the two of us.
Aly jumped with the first boom. It rumbled along the surface of the ground, vibrating below us, and a long whistle cracked before color exploded in the sky just in the distance.
Quietly she gasped, the way she'd done what seemed like a million times before. A perfect memory of her as a child suddenly overtook my mind.

The tips of her delicate fingers fluttered up to her mouth as she watched in awe.
I was powerless to do anything but thread my fingers through her hair, to anchor myself to her, even if it was only for this moment. Even though I'd been the one to cut myself from her, right then it felt impossible to let go.
Reds and blues and whites streamed from the sky, lit up the darkness above, increased in intensity, then fell before the next wave erupted in an electrifying thrill.
Blood thundered through my veins. It'd been so long since I'd felt this close to someone. Part of me fought it, knew I should push her away. The dominate part of me just wanted to stay, even if it was for a little while. I'd been alone for so long.

Was it wrong to take away these memories, something to hold onto when I seeped back into nothingness?
Shifting her weight, Aly sank deeper into me. Her body burned into mine, her head pressed into my thigh. She tilted her head back and looked up at me with wistful eyes, watched me with kindness, with a yearning for the way things had been in the past, with ideas of what could never be.
And I knew it was wrong, that I was only making things worse, prolonging the inevitable, but right then I just didn't care.
A pensive smile kissed her mouth, before she turned back to the show above. She snuggled closer, her shoulder dipping down under my leg so her neck was nestled against my thigh. Her hand skimmed over my knee and down my leg before she firmly wrapped her arm around my calf. Her hand tightened there, and my fingers found their way to the nape of her neck, twisting in the fine hairs and tickling her skin. A small whimper escaped her mouth as I massaged my fingers over the base of her scalp, ran them up to the back of her ears and down again.
As if this wasn't agonizing, having what I wanted most in my hands and knowing she was completely out of reach.
But right then she was mine. So I gave in, took a little more, leaned forward and buried my nose in the fucking delicious coconut in her hair. Breathed in the life and the goodness and everything that was Aly.
Her fingers curled into my leg, begging just as desperately as my body begged for hers, and I felt strung up, strung out. I ached and needed and felt as if I was going to lose my mind.
Fireworks filled the sky, this constant barrage that illuminated the night. I felt them more than saw them as they knit with the shocking intensity radiating from Aly, a feeling that sped through my veins faster than any high I'd ever experienced. Overhead the finale came to life, pounded through my system, set my skin on fire.
I tightened my hold on her, my nose behind her ear, wanted to take it all.
"Aly," whispered from my mouth.
A.L. Jackson's Bio: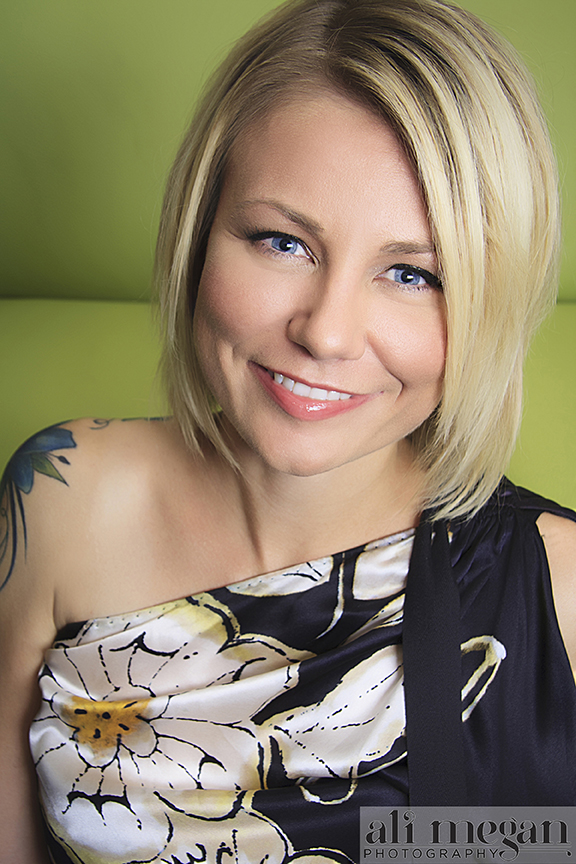 A.L. Jackson is the New York Times bestselling author of Take This Regret and Lost to You, as well as other contemporary romance titles, including Pulled and When We Collide.
She first found a love for writing during her days as a young mother and college student. She filled the journals she carried with short stories and poems used as an emotional outlet for the difficulties and joys she found in day-to-day life.
Years later, she shared a short story she'd been working on with her two closest friends and, with their encouragement, this story became her first full length novel. A.L. now spends her days writing in Southern Arizona where she lives with her husband and three children. Her favorite pastime is spending time with the ones she loves.

BUY LINKS:

Books-

A-Million
† Kobo
Look for Come to Me Softly, book two in the Closer To You Series, coming
July 1, 2014
Be sure to enter the
COME TO ME QUIETLY Blog Tour Giveaway!!
a Rafflecopter giveaway
A.L. Jackson Complete Signed Paperback Collection (all six titles) + Come To Me Quietly Poster and swag
Second Prize:
Come To Me Quietly Collection, which includes a signed copy of Come To Me Quietly, a Come To Me Quietly poster, keychain, and custom bookmark
A.L. Jackson Fun Pack stuffed full of A.L. Jackson book swag
Fourth Prize:
Audiobook Gift Set from Audible.com of The Regret Series (Lost To You, Take This Regret & If Forever Comes)
And don't miss the DAILY blog tour giveaways on A.L. Jackson's Facebook accounts! All kinds of fun stuff will be given away ~ ebooks, gift cards, and much more! EVERY DAY from January 7

th

– February 7

th

!!
https://www.facebook.com/aljacksonauthor